I am using the Nissan EVSE at 110v on an outdoor plug in a shared use space where I live. The owner of the property is not currently interested in installing a L2 EVSE but is okay with me using the 110 plug so long as I track my usage and reimburse. I can't use the kill-a-watt meter outdoors so that's not really an option.
I have a solution that mostly works, but I would like to see if there is a better one out there. Currently, I am using a web-app and a google form/script to start and stop a timer that calculates duration (similar to a employee clock-in/clock-out system.) I plug in, access the web-app to start the timer and then stop it when I am done and it calculates based on the time, assuming 1.3 Kw per hour. At the end of the month, I send a screenshot of my usage and they add it to my electric bill.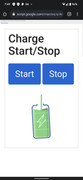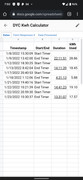 This is great unless it reaches full charge at 3AM at which point I have to go back and change the end time based on when the NissanConnect app sent me a notification that it was done charging (if it does actually notify me.) Yes, I have thought of just not plugging it in if it would charge all the way to 100%, but sometimes my schedule just doesn't work out like that.
Does anyone know of a better way to track usage? I was thinking of trying to use the NissanConnect API to do the datalogging for me, but it is a bit over my head.