Link to 3nd annual BC2BC-2014
Link to 2nd annual BC2BC-2013
Link to first BC2BC-2012
BC2BC-2012 Return Rally Tracking Link Here
Today, June 12, 2012, we start day one of a 9 day odyssey from Mexico to Canada in our 100% electric car, the Nissan LEAF. This car was designed and intended to be a short range, around town car, but with some basic charging station infrastructure, and a little luck, we will be able to drive this 73 mile (118km) US government rated (EPA) vehicle over 1600 miles (2500km) on the West Coast Electric Highway.
Some time later this afternoon, a brand new black 2012 LEAF SL, serial number 20782, will start at the city of Tijuana, Baja California Norte, Mexico, and end at my home in San Diego. A very easy first day of only about 33 miles (54km), but a great chance to check that our preparations are all in order. Tomorrow will be approximately 250 miles !!
Follow along with us on Twitter at "QCpower", or find our blog at
http://www.QuickChargePower.com
" onclick="window.open(this.href);return false;. If your device (Apple iPhone, iPad, etc) can't see that without Flash, then
TRACK ME HERE
Tony Williams is an unemployed airline pilot and electric vehicle aficionado who lives in San Diego, California. He enjoys taking things apart, and sometimes putting them back together, usually not working the same way as when he started. The car he is driving is his second Nissan LEAF; his first one has already gathered 25,000 miles in the first 13 months of ownership. He loves to drive!
******************
June 20 Update:
Totals, Mexico to Canada: 8 days, 5 hours
Total miles for the trip: 1887
Miles per day average: 1887 / 8.2 = 230 miles per day
Maximum miles in one day: 375
Total gasoline burned: 0
**************
The final tally for Washington state:
June 20, 2012
Oregon / Washington border: 10:05 am
Washington / British Columbia border : 11:16pm
13+11 hours enroute
**************
The final tally for Oregon state:
June 19, 2012
Oregon / California border: 7:25am
Washington / Oregon border : 7:25pm
12+00 hours enroute
*****************
The final tally for California state:
June 12 - June 18
Baja California / California USA : 6:16pm estimate
California USA / Oregon border : 7:30pm estimate
6 days, 1+14 hours enroute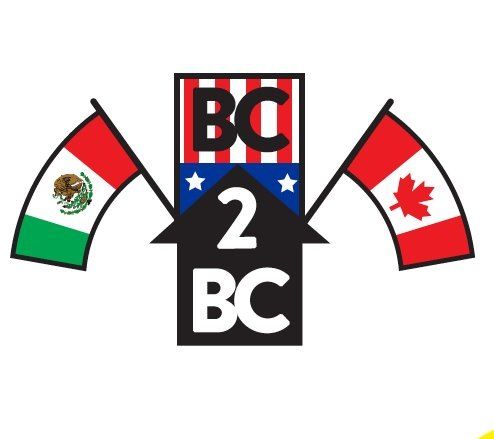 ******************
VFR Flight Plan
******************
Nissan LEAF 100% Electric Car
Tijuana, Mexico to Vancouver, Canada
June 12 through June 20, 2012
Over 1600 total miles on the:
http://westcoastgreenhighway.com
" onclick="window.open(this.href);return false;
Route:
Baja California Norte, Mexico
Tuesday, June 12:
----- Tijuana - Nissan Dealer, Xavier Villaurrutia 9950, 22320 Tijuana Baja California Norte +52 (664) 683 4311
California, USA:
33 - San Diego, my house near Poway [Blink L2]
33 miles
Wednesday, June 13:
----- San Diego, my house near Poway [Blink L2]
67 - Laguna Beach - 547 Forrest Ave [Chargepoint L2]
10 - Newport Beach - 1151 Newport Center Dr [Chargepoint L2]
20 - Cypress - 6400 Katella Ave [Eaton DC]
Alternate: Los Angeles – Church and State Restaurant, 676 Mateo [Blink DC]
52 - Malibu - 23555 Civic Center Way [Clipper Creek L2]
45 - Ventura - 460 E. Harbor Blvd [Chargepoint L2 $$]
Alternate: Camarillo - Mike M's house for booze and laughs [his dryer NEMA 10-30]
34 - Santa Barbara - 4770 Calle Real [Blink L2]
31 - Solvang - 1556 Mission Drive [Chargepoint L2 $]
---- Solvang, Holiday Inn Express, 1455 Mission Drive, 805-688-2018 [RON only] reserved*
259 miles
Thursday, June 14:
---- Solvang, Holiday Inn Express, 1455 Mission Drive, 805-688-2018 [RON only] reserved*
---- Solvang - 1556 Mission Drive [Chargepoint L2 $]
55 - Pismo Beach - Air Park Drive, numerous RV parks with: [NEMA 14-50]
14 - San Luis Obisbo - Target, 11990 Los Osos Valley Rd [Clipper Creek L2]
18 - Morro Bay - RV Park, 1700 Embarcadero 805-772-2722 [NEMA 14-50]
Alternate: Morro Bay - LK Private residence [L2]
30 - San Simeon - Hearst Winery, 442 Slo San Simeon Road, 805-927-4100, POC: Geraldine [Dryer NEMA 10-30]
38 - Lucia - Lucia Lodge, 62400 California 1, 831-667-2391 [120 volts]
26 - Big Sur - RV Camping, 47000 Highway 1, Phone (831) 667-2322 [NEMA 14-50] reserved*
182 miles
Friday, June 15:
----- Big Sur - RV Camping, 47000 Highway 1, Phone 831-667-2322 [NEMA 14-50] reserved*
54 - Watsonville, 275 Main St #400, [Blink L2]
60 - Palo Alto - 660 Stanford Shopping Center, 650-617-8202 [350green DC]
----- Private residence [RON only] reserved*
114 miles
Saturday, June 16:
----- Private residence [RON only] reserved*
-----
Cupertino - Electric Automobile Association, Silicon Valley Meeting
10am - 12noon, 19483 Pruneridge Ave, HP Oak Room, next to the main lobby of Building 48
----- Palo Alto - 660 Stanford Shopping Center, 650-617-8202 [350green DC$$]
10 - Belmont - Volkswagen, 600 Clipper Dr [Blink DC]
76 - Santa Rosa - Nissan, 1275 Santa Rosa Ave [L2, maybe Blink DC]
63 - Ukiah - Super 8, 693 South Orchard Avenue, 707-468-8181 [AV L2] reserved*
149 miles
Sunday, June 17:
----- Ukiah - Super 8, 693 South Orchard Avenue, 707-468-8181 [AV L2] reserved*
68 - Leggett (half way point) numerous RV parks [NEMA 14-50]
52 - Redcrest - RV park, 707-722-4396 [NEMA 14-50]
39 - Eureka - 2 "C" Street [Chargepoint L2]
14 - Trinidad - numerous RV parks [NEMA 14-50]
71 - Crescent City - numerous RV parks [NEMA 14-50]
244 miles
Monday, June 18 or Tuesday, June 19:
----- Crescent City - numerous RV parks [NEMA 14-50]
Oregon, USA:
46 - Obrian - Lone Mountain RV Park [NEMA 14-50]
37 - Grants Pass, Oregon - Exit 58, 1995 NW Vine Street [AV-DC]
Alternate: Ashland, Oregon - Exit 14, 2373 Ashland Street [AV-DC]
Alternate: Point, Oregon - Exit 33, 1510 East Pine St [AV-DC]
20 - Wolf Creek, Oregon – Exit 76, 100 Front Street [AV-DC]
23 - Canyonville, Oregon – Exit 99, 130 Creekside Rd [AV DC]
27 - Roseburg, Oregon - Exit 125, 227 NW Garden Valley RD [AV DC]
26 - Rice Hill / Oakland / Sutherlin, Oregon - Exit 148, 621 John Long Road [AV DC]
26 - Cottage Grove, Oregon - Exit 174, 1570 Gateway Blvd [AV DC]
21 - Springfield / Eugene, Oregon - Exit 195, 840 Beltline Road [AV DC]
81 - Marion - Outlet Stores, 1001 Arney Rd NE [L2]
Alternate: Halsey, Oregon - Exit 216, 32180 Highway 228 [AV DC]
Alternate: Salem Oregon - Exit 256, [AV DC]
Alternate: Woodburn, Oregon - Exit 271, [AV DC]
28 - Portland, Oregon – Exit 1, Fred Meyer store, 3030 NE Weidler St [Blink DC]
Alternate: Portland, Oregon – Exit 299B, World Trade Center, 26 SW Salmon Street [JFE DC]
Alternate: Portland, Oregon – Exit 299B, 633 SW Montgomery St [Eaton DC]
Alternate: Wood Village, Oregon – WalMart, 23500 Northeast Sandy Boulevard, 503-492-9041 [Blink DC]
332 miles
Tuesday, June 19 or Wednesday, June 20:
-----Portland, Oregon – Exit 1, Fred Meyer store, 3030 NE Weidler St [Blink DC]
Washington, USA:
Alternate: Vancouver, Washington - Exit 11, Safety Rest Area [AV L2]
Alternate: Ridgefield, Washington – Exit 14, 6370 N. 1st Circle [now AV L2, future AV DC ?]
Alternate: Kelso, Washington - Exit 36 or 39 [not open yet Av DC]
49 - Longview, Washington - 700 7TH Avenue, Nissan dealer, 360-423-4321 [L2]
46 - Centralia, Washington – Exit 82, 817 Harrison Avenue [AV DC]
21 - Tumwater, Washington – Exit 101, 6131 Capital Blvd SW [AV DC]
64 - Seattle, Washington – Exit 167, John St & Westlake Ave N [Blink DC]
65 - Burlington, Washington – Exit 229, 448 Fashion Way [AV DC]
25 - Bellingham, Washington – Exit 255, 222 36th St [AV DC]
19 - Custer, Washington - 3063 Creasy Rd [AV L2]
8 - Blaine, Washington - Exit 269, Safety Rest Area [AV L2]
Alternate: Blaine, Washington - 200 Peace Portal Drive, across from Chevron on west [AV DC]
British Columbia, Canada
5 - White Rock - Iguana Beach Grill, 14985 Marine Drive, 604-726-3641
288 miles
June 20, 2012
SEATTLE – LEAF electric car owners gathering
Pre-Departure Checklist
:
Passport, driver license, insurance, AAA card
Tow strap, threaded attachment fixture
Jumper Cables
200 feet extension cords
20 amp breaker for various brand electric boxes
Panasonic EVSEupgrade.com, gazillion adaptors
Quick 220
J1772 extension
Spare tire, jack, lug wrench, tire plugs, air compressor
Garmin GPS
Spot GPS tracker
Gid meter, prototype LEAFscan
Maps
Sleeping bag, tent, flashlight
Money, charge cards, cell phone, iPad, MacBook Pro
Canon video camcorder, GoPro, chargers, storage media
100k ohm modified plug for generator GFCI spoof
Goped(s)
Golf clubs
Electronic Safety Flashing Arrow
Rain Jacket
Walkie talkies