Hello to all,
Last spring, I figured that my new to me 2011 Leaf could need help next winter. I do not have a heated garage or even a garage. The car is always outside at home and work. Only plugged in at home
I saw car engine oil pan heat pads many years ago like: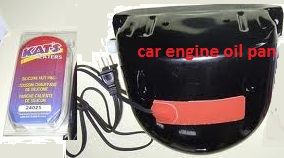 So I figured I could mimic the 300 watts Leaf Winter Package by installing 6 x 50 watts heat pads under the battery pack. Took the task this autumn. Unfortunalty it was freezing and the daylight no longer lasting long enough, I did not take pictures.
I bought 6 pads and a thermal cube that turns On at -18C and turns Off at -12C:
The pads:
http://www.amazon.com/Kats-24050-Watt-U ... B000I8YPQ4
And the TC1 switch :
http://www.amazon.com/Farm-Innovators-T ... B001ADUKRO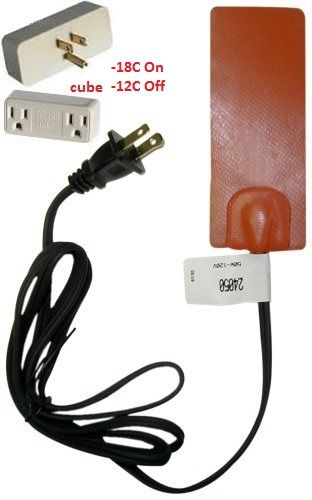 I installed them at about those position (of course, not outside) I removed the plastic covers to stick the pads directly to the battery case: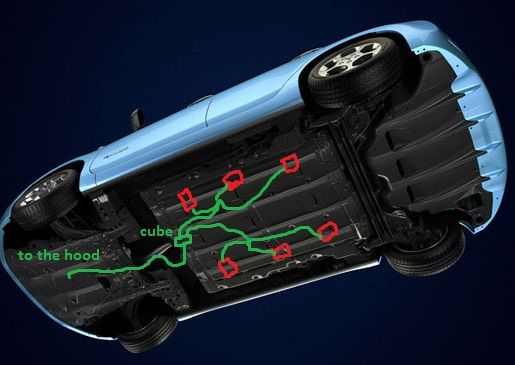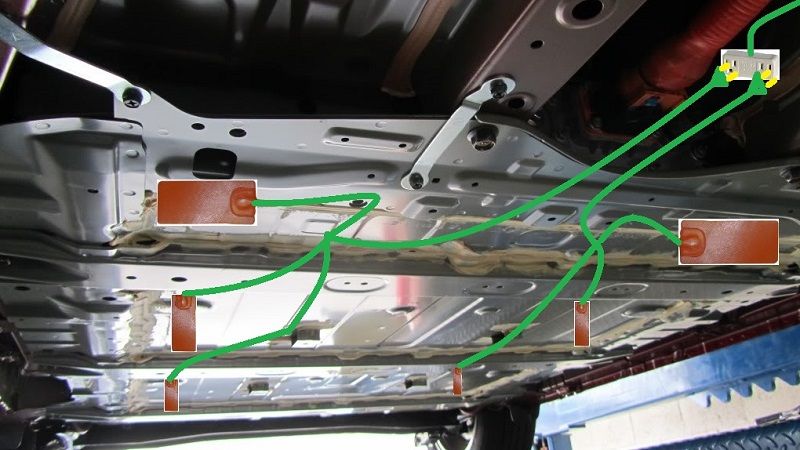 Here is an other view:
And this. The thermal switch is between the body and the lower plastic undercover (in front of the battery):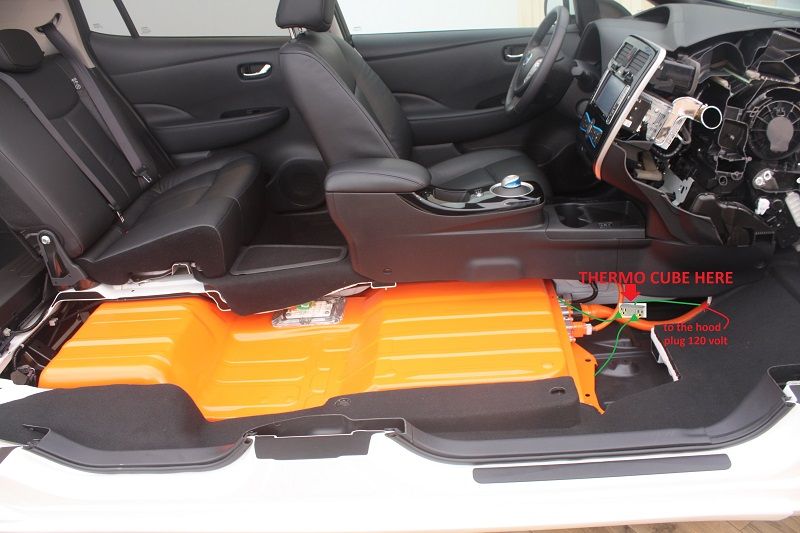 Maybe the best image is: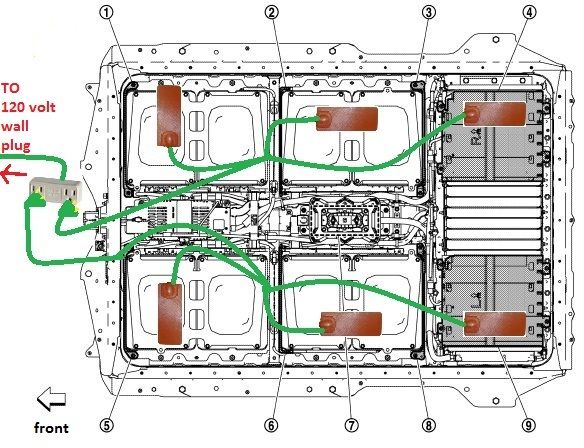 The pad are glued with the sticky side, added some silicon around the pad. I a rectangle of pink fiberglass about 2 cm thick (not compressed) and covered with aluminum tape to cover each pad.
I left the 120 volt plug under the hood. So to connect the heat pads, I connect the car like a gas car: open the hood, connect to the house 120volt outlet and close the hood for the night
The result is:
- Even if connected, above -18C, the pads do not turn On
- At -18C they turn On.
Next is an example for a -27C night and -19C day
- The Thermal switch get heat from being near the battery pack
- In the morning, the pack shows 4 temperature bars
- After the work day, it goes down to 2 bars
- As I drive home, it goes up to 3 bars
- I connect the pads at home and the next morning, it get 4 bars again
- If the temps are above -18, all is like any other day. No heat but I charge at 100%
Next spring, I will set the 120 plug in the front electrical trap, not to have to open the Hood everytime.
My experience is that this is better than the Winter Package. My battery being at a higher temp, I can go farther in really cold days like -20C then I can at warmer temp like -15C
P.S.
-12C is 10F
-15C is 5F
-18C is 0F
-20C is -4F
-27C is -17F